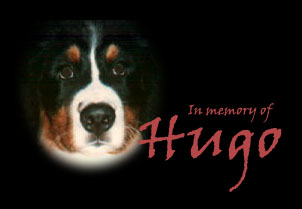 1989-1997
Please Scroll Right -->>

HUGO
Come out and see my good old friend
His manners are so winning
His eyes speak cunningly of love
A friendship is beginning
He lives in pleasant homes and days
He knows his love will reach you
But this the love that he displays
Is all his own to teach you
And when we sit upon a log
And view the world of heather
You do not mind that he's a dog
or how we got together.
-->
Poem engraved in stone wall at Brookgreen Gardens, Murrells Inlet, SC
-->>


Brookgreen Gardens is the finest public sculpture garden in America and a National Historic Landmark. Located 17 miles south of Myrtle Beach, SC on US Highway Rt. 17 South, it is in the middle of a gorgeous laid-back drive through many Civil War and Historic Landmarks. Stephen May of the the New York Times said in a 1993 article:
"...Brookgreen provides an unusual opportunity for a survey of just about every major American representational sculptor of the last century and a half."

There are more than 9,000 acres in Brookgreen's total property and is made up of four rice plantations. There are more than 550 works of art in the garden by more than 240 artists. The majestic live oaks in the gardens are approximately 250 years old. Since opening to the public in 1932, Brookgreen Gardens has cultivated its tradition of welcoming visitors to the tranquil beauty and incomparable collections of sculpture, plants and animals. It is truly the place where art meets nature."
Other Related Links!
Shaw House Bed & Breakfast...Nice place to stay!
Other Nearby Attractions...for your enjoyment.
Pawley's Island Historic District...Don't miss this!

| Hugo, Joan and Haley | Haley |
| --- | --- |

More Links To Interesting Sites!
The Bernese Mt. Dog Home Page...now located at www.berner.org!
All About Dogs!...An Award Winning Dog Site!
Fond Memories Of Satch...remember Satch?
The Virtual Pet Cemetary
---
This page employs the Book Antiqua & Verdana fonts
and is best viewed with 800 x 600 or better monitor resolution.
Copyright © 1997
Sirius Web Craft
All Rights Reserved